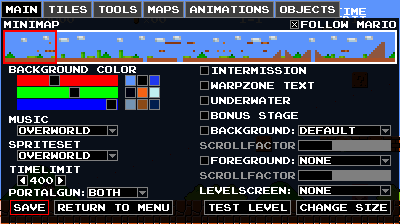 Level Flags are options that adjust the properties of levels in
Mari0
.  They can all be found in the Main section of the level editor.
List of Level Flags
Edit
Background Color - What color the background will be. You can use either the default ones or use RGB sliders to make your own.
Music - The background music that will play in the level.
Spriteset - The spriteset Enemies and Coin Blocks will have.
Timelimit - The amount of in-game seconds until the player dies. There are 2.5 in-game seconds in one real-life second.
Portalgun - Which portals the player can fire.  If none, it uses the nogun sprites for the player.
Intermission - The player will walk to right until they somehow leave the level.
Warpzone Text - When the player sees the rightmost block in the level, "WELCOME TO WARP ZONE" will appear with numbers over the Warp Pipe entities.
Underwater - Makes the level a water level.
Bonus Stage - The player starts on a Vine, and falling in a pit will instad send the player back to the main sublevel.
Background - Which Custom Background to display.  If unchecked, it will be a solid color.
Foreground - Which Custom Foreground to display.  If unchecked, it will be clear.
Levelscreen - Which Custom Levelscreen to display at the start of the level.  If unchecked, it will be solid black.
Ad blocker interference detected!
Wikia is a free-to-use site that makes money from advertising. We have a modified experience for viewers using ad blockers

Wikia is not accessible if you've made further modifications. Remove the custom ad blocker rule(s) and the page will load as expected.