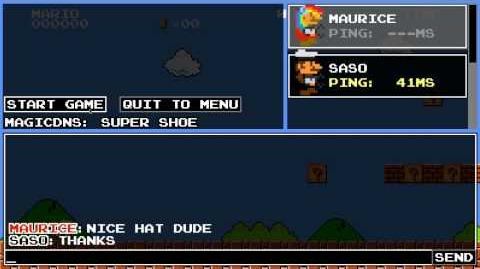 Mari0: Special Edition
was meant to be the next update to Mari0, after Mari0 1.6. It was announced on May 1st, 2012, and after 3 years, 3 months, and 14 days, it was officially cancelled.
[1]
Maurice made a Beta version of Mari0 SE on the Stabyourself fourm, which you can get here.
The latest version (Beta 9) can be found Here.
An unofficial release. It was cancelled.
New Mappack Format.

Up to ten octillion (10,000,000,000,000,000,000,000,000,000) levels total.

More tile properties.
Animated tiles.
New loading screen.
New coin format.
Vertical Levels
Tons of bug fixes.
n' more to add to this list.
Reference
Edit
Ad blocker interference detected!
Wikia is a free-to-use site that makes money from advertising. We have a modified experience for viewers using ad blockers

Wikia is not accessible if you've made further modifications. Remove the custom ad blocker rule(s) and the page will load as expected.