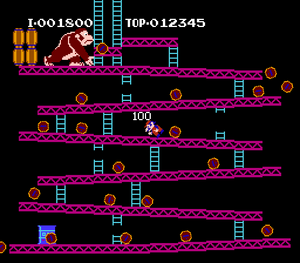 Not Donkey Kong, or Wonkey Kong, is a recreation of the NES version of Donkey Kong with physically simulated entities that roll and bounce realistically, much like the previous games Not Tetris 2 and Not Pacman.
It is currently "nearly done"[1].
After two years of inactivity, Maurice made a surprise announcement on Twitter[2] that he would be streaming game development on Twitch, and for a week he streamed Not Donkey Kong daily. After the week was over, he stopped to prepare for Gamescom 2017. After Gamescom was over, he wrote a blog post detailing the event, and at the very end he officially announces Not Donkey Kong, promising more info at a later, currently unknown, date.
An unfinished version was posted to the Discord server on October 2, 2017.
An update of the game was posted to the Discord server on December 25, 2017, adding the ability for barrels to fall on ladders.
Current Features
Edit
Physical barrels
Physical player
Wiggly arms and legs
The player get pushed in the air when they collide with a barrel
25m
Barrels can fall down ladders
Debug Features
Edit
Right click spawns a barrel
Left click teleports the player
Middle click spawns a copy of the player
References
Edit
↑ "Maurice: the difference is that not donkey kong is nearly done and I'm actually looking for suggestions" (12/28/2017 via Discord)
Ad blocker interference detected!
Wikia is a free-to-use site that makes money from advertising. We have a modified experience for viewers using ad blockers

Wikia is not accessible if you've made further modifications. Remove the custom ad blocker rule(s) and the page will load as expected.