"Well, now there's a mod for that."
The following is unofficial/fan-made content.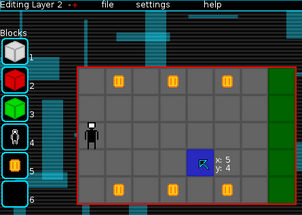 Ortho Edit is a program created by Hatninja that can load and create real Ortho Robot levels with ease. 
See Thread
It was released on April 14th 2013
With his relatively good knowedge of Lua, Hatninja decided to make an Ortho robot level editor.
All three versions were made within 4 days
Ad blocker interference detected!
Wikia is a free-to-use site that makes money from advertising. We have a modified experience for viewers using ad blockers

Wikia is not accessible if you've made further modifications. Remove the custom ad blocker rule(s) and the page will load as expected.