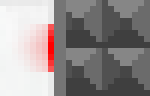 Panels are a Portal element in Mari0: SE. They can be used to make non-portalable tiles toggle portalability on an input. For whatever reason, they can not be used to make portalable tiles non-portalable.
They were obviously an afterthought, having very basic graphics and a tooltip suggesting they would have been removed later.
Other Uses
Edit
They can be used to make tiles only portalable from one direction, even when Gel is applied.
They can be combined with pre-placed Portals to create portal doors immune to player interference.
Ad blocker interference detected!
Wikia is a free-to-use site that makes money from advertising. We have a modified experience for viewers using ad blockers

Wikia is not accessible if you've made further modifications. Remove the custom ad blocker rule(s) and the page will load as expected.